Eastern Mt. Pelion is the "wild" side of this charming mountain. Forested mountain peaks here stretch right down to the Aegean Sea, where the rocky coastline conceals some truly enchanting beaches. The mountain sides are verdant with dense beech forests around the peaks, chestnuts and other wild and domesticated trees in the mid zone and olive trees closer to the sea. Babbling streams and brooks carry the melting snow down the mountain all year round, watering the vegetation and creating a lush green environment which stretches all the way down to the deep blue of the Aegean Sea.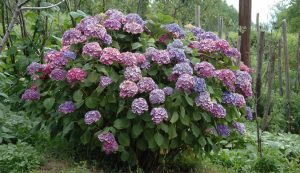 It was in these breath-taking surroundings that early settlers built villages of outstanding architecture, and handed us down an intact natural environment with its pathways, small huts and fields. The largest villages in the area are Tsagarada and Zagora.
One can reach Eastern Mt. Pelion from Volos by one of two routes: either by following the coastal road via Milies or Niohori, or by taking the mountain road via Hania. All the roads along both routes are well maintained, but the journey is somewhat tiring because the roads are extremely winding; of course, that has served as a natural barrier, protecting the area from mass tourism.
In addition to being an area of outstanding natural beauty, it is also an agricultural area, producing apples, pears and chestnuts which are famous nationwide, as well as various other fruits and vegetables to meet local needs.
Tsagarada is the least densely populated and greenest village on Mt. Pelion, and in all of Greece. It consists of four neighbourhoods (Agii Taxiarches, Agia Paraskevi, Agios Stefanos and Agia Kyriaki), which give the impression that it consists of four separate villages. One has the impression that the village is inundated by the lush vegetation around it; vegetation comprised of wild and domesticated chestnut and other trees, and of course cultivars of apples and pears are to be found everywhere. The gardens of the village's houses are swathed in wild flowers and pot plants, with pride of place going to huge hydrangeas and camellias.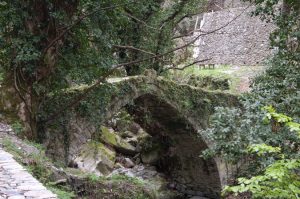 One version has it that the name Tsagarada means 'flocks and sheep pens' while another claims it means 'beautiful location' while yet another claims it means "guarded and walled location".
The present-day village in all likelihood dates back to the end of the 16th century and was probably established by coastal dwellers who climbed the mountain slopes to hide their homes from pirate attacks, and by Greeks from elsewhere in the country fleeing to avoid the tyranny of the Turks.
The village experienced a boom in the 18th century and became an important centre for silk production and clothing for export to Europe. Later on many residents migrated, especially to Egypt, where they became rich, only to return and build impressive mansions in their home town, and make donations which resulted in the construction of churches and public buildings.
Today the village manages to successfully blend tourism and agriculture.